New Live Zoom Workshop Dates and Hand-on Pre-Dental Courses on UC Campuses Coming Soon in Late Summer 2021

Beginners' Course
1 Day Pre-Dental Beginner Tooth Waxing and Denture Course (Intro Course)
This session will help participants to hand instrument techniques such as: finger dexterity, Arm-hand steadiness and aiming and reaction time of dental materials. This course also will assist the participants to improve on his or her performance before going to school. The objective of this course is to help the participant to discover their weak and strong points in eye hand coordination. This one-day course will no doubt help build confidence, maturity, thoughtfulness, and endurance in achieving the goal in manual dexterity. No experience required. You don't have to be a PDS member to participate in the courses. Non-members are welcome to participate.
Points for Letter of Recommendation
A Letter of Recommendation is based on the participants with the highest combined scores of individual performances. The Beginner's Course scores and Sign-up Points will be added to the Tooth Waxing Part 1 and 2 or Quadrant Denture Course Part 1 and Part 2, giving the participant a greater chance of receiving a letter. Lowest score of receiving a letter is 357 points. To receive a letter based on your perceptual skills and manual dexterity will truly enhance your profile.
Vinmar Solutions Pre-Dental Course Sign- up Points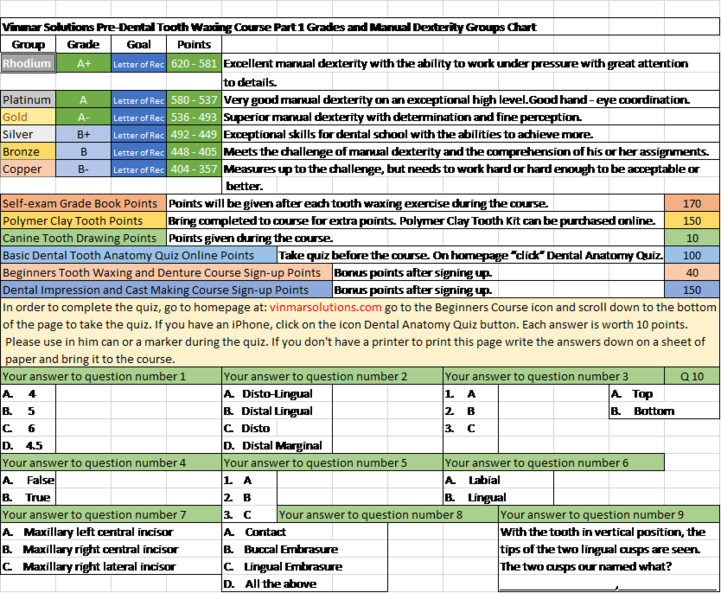 Registration Fee for CSUF Pre-Dental Society Member Only
Registration Fee for UCSD Pre-Dental Society
1 Day Tooth Waxing Courses Part 1 and Part 2 for a Letter of Recommendation
Registration Fee for UCR Pre-Dental Society Member Only

Registration Fee for UCI Pre-Dental Society Member Only

Beginners' Tooth Waxing and Denture Class of April 7, 2018
UCLA Beginners' Tooth Waxing and Denture Class of January 6, 2018
Beginners' Tooth Waxing and Denture Class of October 21, 2017
Beginners' Tooth Waxing and Denture Class of September 9, 2017
Beginners' Tooth Waxing and Denture Class of August 26, 2017
Beginners' Tooth Waxing and Denture Class of July 15, 2017
Beginners' Tooth Waxing and Denture Class of June 3, 2017
Beginners' Tooth Waxing and Denture Class of May 20, 2017
Beginners' Tooth Waxing and Denture Class of April 1, 2017
Beginners' Tooth Waxing and Denture Class of February 4, 2017
Beginners' Tooth Waxing and Denture Class of January 7, 2017
Beginners' Tooth Waxing and Denture Class of November 19, 2016
Beginners' Tooth Waxing and Denture Class of October 15, 2016
Beginners' Tooth Waxing and Denture Class of September 17, 2016
Beginners' Tooth Waxing and Denture Class of June 18, 2016
Beginners' Tooth Waxing and Denture Class of April 30, 2016
Beginners' Tooth Waxing and Denture Class of March 19, 2016
Beginners' Tooth Waxing and Denture Class of February 27, 2016
Beginners' Tooth Waxing and Denture Class of January 23, 2016